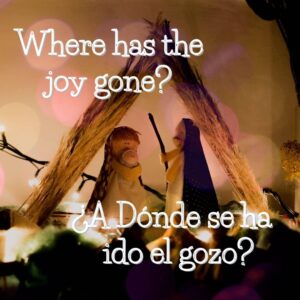 Where has the joy gone?
¿A dónde se ha ido el gozo?
"But the angel said to them, "Do not be afraid. I bring you good news that will cause great joy for all the people. Today in the town of David a Savior has been born to you; he is the Messiah, the Lord. This will be a sign to you: You will find a baby wrapped in clothes and lying in a manger. "
We all wait for a sign from God at some point in our lives. It is part of the natural instinct to turn to God and ask for a sign that everything is going to be alright in the moments when things get out of our control and we begin to lose hope and joy in what we are doing. No wonder there is the famous phrase: "More prayers have been heard in hospitals and airplanes than in churches." And it is because when things get out of control in an exorbitant way and there seems to be no solution, we remember that it is God and only God who can save us, heal us and restore us. He alone can turn a tragedy into a cause for celebration and joy.
At the time of the birth of Jesus, the nation Israel was having a very difficult time under Roman rule. Having already gone through exile repeatedly and God's silence for 400 years, Israel now found itself being subdued by an Empire that was stronger, more numerous and more prepared than its own. The hope of a Messiah who would free them and lead them back to a relationship with God was the greatest desire of the Hebrew people. It is in the midst of that bitterness, weariness, pain, despair, oppression and cry to God that He sends the baby Jesus to be born in a manger for the salvation of all.
Do you want a sign from God that tells you that in the end everything will be fine in your life and the situation you are facing? We will recognize the sign in the baby we found in the manger wrapped in clothes!
How sweet is the Good News in our lives that the almighty God sent the ultimate sign of His love and faithfulness for creation in the form of a baby in a manger wrapped in cloths. When we go through difficult times in which our health, our joy, our finances, our hope, our emotions, our relationships, our work, our family and/or our lives are compromised by the circumstances of this world, we must stop for a second and realize that "Today in the town of David the savior has been born to us. He is the Messiah and savior." This is the Good News for our lives, this is the gift of God that turns sadness into joy, lamentation into dancing, and perdition into salvation. This is the sign you were waiting for in your life: Jesus the Messiah. The savior born in a manger wrapped in clothes. 
John 16:33 "I have told you these things so that in me you may find peace. In this world you will face afflictions, but take heart! I have overcome the world"
Pero el Ángel les dijo: No tengan miedo. Les traigo las Buenas Nuevas que los dejará muy contentos. Su salvador acaba de nacer en Belén! Es el Mesías, el Señor. La señal será que: Encontraran un bebe durmiendo en un pesebre, envuelto en pañales.
Todos esperamos por una señal de Dios en algún momento de nuestras vidas. Es parte del instinto natural el girarnos hacia Dios y pedirle una señal de que todo va a estar bien en los momentos en los que las cosas se salen de nuestro control. No por nada existe el dicho: "Se han oído más oraciones en hospitales y aviones que en Iglesias". Y es porque todo apunta a que cuando las cosas se salen de control de manera exorbitante y parece no haber solución, recordamos que es Dios y solamente Dios quien puede salvarnos, sanarnos y restaurarnos. Solamente el puede tornar una tragedia en un motivo de celebración y gozo. 
En los tiempos de la venida de Jesus la nación Israel estaba pasando un tiempo muy difícil bajo el dominio Romano. Habiendo ya pasado por el exilio repetidas veces, el silencio de Dios por más de 400 años, ahora se encontraba siendo sometida por un Imperio que era más fuerte, numeroso y preparado que el suyo. La esperanza de un Mesías que lo liberase de todo eso y guiase de regreso a una relación con Dios era el máximo anhelo del pueblo Hebreo. Es en medio de esa amargura, cansancio, dolor, desesperación, opresión y clamor a Dios que él envía al niño Jesús a nacer en un pesebre para la salvación de todos. 
¿Quieres una señal de parte de Dios que te diga que al final todo va a estar bien en tu vida o la situación que estás enfrentando? Hallaremos la señal en el bebe que encontramos en el pesebre envuelto en telas!  
Cuán dulces son las Buenas Nuevas en nuestras vidas que el Dios todopoderoso envió la máxima señal de su amor y fidelidad por la creación en la forma de un bebe en un pesebre envuelto en telas. Cuando pasamos por momentos difíciles en los cuales nuestra salud, nuestro gozo, nuestras finanzas, nuestra esperanza, nuestras emociones, nuestras relaciones, nuestro trabajo, nuestra familia y/o nuestras vidas se ven comprometidas ante las circunstancias de este mundo, debemos parar por un segundo y darnos cuenta que "Hoy en el pueblo de David el salvador nos ha nacido. Él es el Mesías y salvador". Estas son las Buenas Nuevas para nuestras vidas, este es el regalo de Dios que torna la tristeza en gozo, el lamento en baile, y la perdición en salvación. Esta es la señal que estabas esperando en tu vida: Jesús el Mesías. El salvador nacido en un pesebre, envuelto en pañales. 
Juan 16: 33 "Yo les he dicho estas cosas para que en mí hallen paz. En este mundo afrontarán aflicciones, pero anímense! Yo he vencido al mundo"