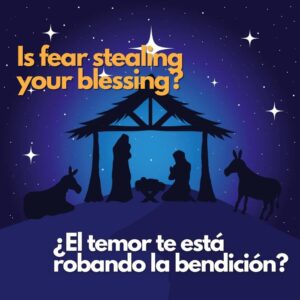 Is Fear stealing your blessing?
¿El temor te está robando la bendición?
But after he had considered this, an angel of the Lord appeared to him in a dream and said, "Joseph son of David, do not be afraid to take Mary home as your wife, because what is conceived in her is from the Holy Spirit. She will give birth to a son, and you are to give him the name Jesus, because he will save his people from their sins."
Christmas is a mix of the expected and the unexpected.  We find a warm contentment in looking forward to familiar traditions.  But we also love the surprises of unexpected opportunities to see old friends, new events to experience, and yes – giving or getting gifts.
In today's reading from the Christmas story, Joseph is trying to find his way through a world of recent surprises.  Before these verses, the story tells us that Joseph was in the middle of plans to take Mary as his wife.  But now – during the engagement – he finds out that she is pregnant.  Joseph loved and trusted Mary, but… she had this crazy story about how the pregnancy happened.  He wanted to be kind to her, but … he also knew how others would talk – about both of them. Eventually Joseph came to the decision to quietly end their relationship.  He, and Mary, would both just move on with quiet, separate lives.
In the middle of Joseph's disappointment, confusion, questions about what to do, and fear, God speaks to him directly: "Do not fear, because…"  One very rough paraphrase might be something like: "Do not fear, because even though this all looks incredibly strange, God is starting the biggest thing in human history – and you have the opportunity to be a part of it."
What if, even after hearing "do not be afraid," Joseph had just said "sorry, not for me."  What if he had gone ahead with his own plans out of fear for his reputation, fear that someone was lying, or fear of what he was getting into?  Life would have gone on.  Mary would still have been pregnant.  God would still have been working, but Joseph might have missed experiencing the biggest promise in God's story.
Take 2 minutes of silence to wait quietly. Then, come to God and spend a little time remembering how he worked in the lives of his people – often his fearful people.  Name before God the situation where fear is making it very difficult to "keep in step with" his Spirit right now.  Ask God to help you understand his view of that situation, and how he is working there.  As you go about the day, be listening for what God may be saying about the thing that worries you through His word, his Spirit, other believers, and circumstances.  As you wait, remind yourself that God took the initiative to come to Joseph, to tell him not to fear, and to direct him on what he should do next.
Pero, cuando él estaba considerando hacerlo, se le apareció en sueños un ángel del Señor y le dijo: «José, hijo de David, no temas recibir a María por esposa, porque ella ha concebido por obra del Espíritu Santo. Dará a luz un hijo, y le pondrás por nombre Jesús,[a] porque él salvará a su pueblo de sus pecados»
La Navidad es una mezcla de lo esperado y lo inesperado. Encontramos una cálida satisfacción en mirar hacia las tradiciones familiares. Pero también nos encantan las sorpresas de las oportunidades inesperadas de ver a viejos amigos, nuevos eventos por experimentar y, sí, dar o recibir regalos.
En la lectura de hoy de la historia de Navidad, José está tratando de encontrar su camino a través de un mundo de recientes sorpresas. Antes de estos versículos, la historia nos cuenta que José estaba en medio de planes para tomar a María como su esposa. Pero ahora, durante el compromiso, descubre que ella está embarazada. José amaba y confiaba en María, pero… ella tenía esta loca historia sobre cómo sucedió el embarazo. Quería ser amable con ella, pero… también sabía cómo hablarían los demás, sobre los dos. Eventualmente, José tomó la decisión de terminar silenciosamente su relación. Él y Mary seguirían adelante con vidas tranquilas y separadas.
En medio de la desilusión, la confusión, las preguntas sobre qué hacer y el miedo de José, Dios le habla directamente: "No temas, porque…" Una paráfrasis muy tosca podría ser algo así como: "No temas, porque aunque esto todo se ve increíblemente extraño, Dios está comenzando lo más grande en la historia humana, y tú tienes la oportunidad de ser parte de eso".
¿Qué pasaría si, incluso después de escuchar "no tengas miedo", Joseph sólo hubiera dicho "lo siento, esto no es para mí"? ¿Y si hubiera seguido adelante con sus propios planes por miedo a su reputación, miedo a que alguien estuviera mintiendo o miedo a lo que se estaba metiendo? La vida habría continuado. María todavía habría estado embarazada. Dios todavía habría estado obrando, pero José podría haber pasado por alto la mayor promesa en la historia de Dios.
Tómese 2 minutos de silencio para esperar en silencio. Luego, acérquese a Dios y dedique un poco de tiempo para recordar cómo Él obró en la vida de su pueblo, a menudo su pueblo temeroso. Mencione ante Dios la situación en la que el miedo hace que sea muy difícil "mantenerse al paso" con su Espíritu en este momento. Pídele a Dios que te ayude a entender su punto de vista sobre esa situación y cómo está trabajando allí. A medida que avanza el día, esté atento a lo que Dios pueda estar diciéndote a través de su Palabra, su Espíritu, otros creyentes  y las circunstancias. Mientras espera, recuerde que Dios tomó la iniciativa de venir a José, decirle que no temiera y orientarlo sobre lo que debía hacer a continuación.